Academic and Policy Roundtable | "How East and Southeast Asia Cope with the Global Economic and Financial Crisis"
The BMBF-sponsored Southeast Asia Study Group at Freiburg organized an Academic and Policy Roundtable on the Global Economic and Financial Crisis and the responds of (South)East Asian nations. The Roundtable took place on January 27th, 2012 in Berlin (Germany).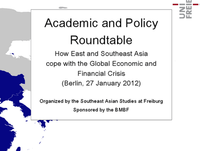 BMBF Academic and Policy Roundtable Description:
With the outbreak of the Asian financial crisis in 1997/1998, Pacific Asia's economic miracle came to a temporary standstill. While there existed disagreement about the root causes, the crisis painfully exposed the lack of national and regional capacity to handle such crisis institutionally, politically and financially. Besides strengthening national resilience, one of the lessons East and Southeast Asian governments drew from the Asian financial crisis was the need of enhancing regional cooperation in the field of monetary and financial affairs.
A decade later, since 2008, Europe and the U.S. are faced with "their" financial and sovereign debt crises exposing weaknesses of their financial systems but also the eminent difficulties of finding common – regional or global – solutions. On the contrary, Asian economies, up to today, seem to be affected by the current crisis mainly through the trade channel. Has "Asia" learned its lessons, while "the West" is failing?
In any event, with the possibility of global contagion still looming large and the persistence of systemic risks in the global financial system, pressing questions also necessitate "Asian" answers: How to reform the global and regional financial architectures? How to balance the benefits from increasing economic and financial integration with protective measures against the persistent dangers of financial instability resulting from large and volatile capital flows and a lack of international regulation? What are possible national, regional and global frameworks to deal with the current crises and to prevent future instability spilling over to Asia?
The Policy Retreat organized under the auspices of the University of Freiburg's BMBF-supported Southeast Asia Program seeks to bring together scholars, practitioners and representatives of East and Southeast Asian embassies to exchange views and to discuss the precise impact of the current crises on East and Southeast Asia. The key objective will be to analyze how regional powers responded to these challenges, how they protect themselves against future instability and how their actions affect smaller countries in the region. The discussion will focus on the question of whether and how financial regionalism in Asia is part of the solution and what role the ongoing power shift in international financial and economic organizations will play in these processes.